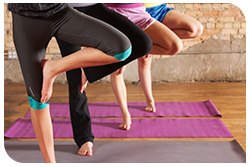 I have been practicing yoga since 1997, and completed my certification for teaching in 2001. I continue to offer weekly yoga classes and trainings, which are listed on the workshops page.
Yoga is effective at stress reduction, self-insight, trauma recovery, and sensory integration. It has a place in modern psychotherapy, as more and more clinical studies validate its long-known benefits. I find the teachings of yoga and Eastern psychology offer a nice contrast to Western theories.
There is an option to include yoga and meditation practices in your counseling if you so desire. I also offer private yoga sessions.